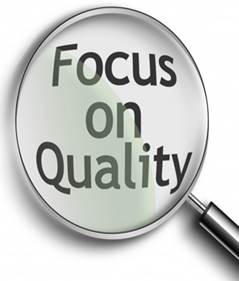 Click here to take our quick member satisfaction survey!Concordia's Quality Improvement Program is designed to improve the quality of clinical care and service that is provided to members. We continually monitor and assess our performance in areas we consider key to providing quality care, excellent customer service and improving member safety. The Quality Improvement Program includes activities designed to measure and assess performance in areas such as:
availability, the distance members need to drive to reach practitioners and facilities, and the number of practitioners and facilities needed per 1000 members.
accessibility, the time for members to be offered appointments for routine care, urgent care and non life-threatening care.
accessibility statistics for how quickly members receive assistance when calling

Concordia

by telephone.
member satisfaction activities that include annual surveys and analysis of complaints and appeals.
adherence to clinical practice guidelines.
continuity and coordination of care within the behavioral health continuum and between behavioral health and medical delivery systems and practitioners.
specific clinical quality improvement activities
increasing the number of members who complete an initial outpatient appointment within 30 days of discharge from inpatient care for a behavioral health condition
increasing the number of members under age 18 who complete four or more outpatient visits within 90 days of an

ADHD

diagnosis
increasing community tenure for individuals with severe mental illness
The Quality Improvement Committee (QIC) oversees implementation of the Quality Improvement Program. The QIC is chaired by the Medical Director and includes a range of practitioners who treat members in all settings. The QIC sets standards and goals for measurement activities, collects data to measure performance against the standards and goals, analyzes data, determines interventions to improve performance, oversees implementation of the interventions, and schedules remeasurement to evaluate the effectiveness of interventions. The Quality Improvement Director oversees and implements the activities of the Quality Improvement Program and, in collaboration with the Medical Director, prepares an annual evaluation of the Quality Improvement Program.
If you would like more information about the Quality Improvement Program, or paper copies of materials, please contact the Concordia QI Department at 305-514-5300. We welcome your comments and ideas about how we can improve our care and services.